National Manufacturing Day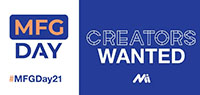 Manufacturing Day is a nationwide initiative aimed at
demonstrating the reality of modern manufacturing
careers. Production is more than manufacturing-it
encompasses everything from research and
development to design, consumer behavior and
end-of-use cycles. It includes multiple industries as
diverse as automotive, aerospace, plastics, chemicals,
food, healthcare, and textiles. Manufacturing is in
the forefront of growth, jobs and global innovation.
We encourage students to speak with their school
counselors to find a Career Pathway that will lead you
to these exciting career opportunities. Adults visit
a local college or university or your local WorkOne
office and learn more about training opportunities that
will put you on the pathway to a successful career in
manufacturing.
To learn more about careers in manufacturing
and some of the innovative processes used in the
production of goods, go to www.workonewest.com.